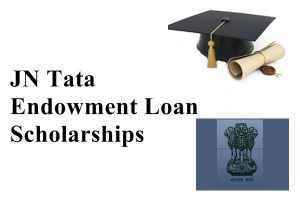 The J. N. Tata Endowment awards a one-time loan scholarship to Indians at the beginning of an academic year for full time Postgraduate/Ph.D./Postdoctoral/Research fellowships studies abroad, in all fields, irrespective of caste, creed, gender or community. The amount of the loan scholarship is determined on the basis of the norms laid down for the purpose, and does not cover the full cost of studies, and ranges between Rs.1,00,000/- and Rs.10,00,000/-. All selected scholars do not necessarily qualify for the maximum amount.
Thank you for reading this post, don't forget to subscribe!
The selected scholars may also be recommended for a partial travel assistance (a maximum of Rs.50,000/-) and gift award from our allied Trusts as may be decided at the sole discretion of the Trustees of the concerned Trusts. The gift award ranges between Rs.2,00,000/- and Rs.7,50,000/- and depends on the academic performance of the candidates in the course for which they are awarded the JN Tata loan scholarship. The gift award will be considered only for those who submit the relevant academic performance proof such as a transcript and progress report.
Eligibility
* Candidates should be Indians, not older than 45 years as on June 30, 2022, and graduates of a recognised Indian University with at least 60% marks on average in their undergraduate or post-graduate studies. If the undergraduate degree is not from a recognised University in India, candidates are not eligible to apply.
* Candidates who did not get selected in the previous year/earlier for the loan scholarship and candidates who could not avail of the loan scholarship when they were selected are eligible to apply.
* Candidates who are at the end of the 1st year and entering into the second year of their overseas studies (Fall 2022 – Spring 2023) are also eligible to apply. This is applicable only if the minimum duration of the course is 2 years and there is at least one full academic year remaining to complete at the time of award of the loan scholarship, normally by July of any calendar year.
* J N Tata scholars who have fully repaid their existing loan scholarship amount are eligible to apply.
* Candidates in the final year of their degree courses and those awaiting results are eligible to apply. Candidates may apply even if they do not have the admission/offer letters at the time of making the application, from the Universities to which they have applied for the academic year 2022-2023. However, they must update their applications status with the Endowment once they secured admission by sending an appropriate email to jnte@tatatrusts.org.
* Candidates going abroad for seminars, conferences, training, workshops, paper presentation, undergraduate studies and any post-graduate degree/diploma/certificates through Distance learning or online medium are not eligible to apply.
* The course to which candidates are admitted must be recognized as a Graduate Program (post-graduate in Indian terminology).
Application Process
Registration Process
* Candidates are required to register for the J N Tata Endowment loan scholarship for the academic year Fall 2022 – Spring 2023 by using their email I.D. All subsequent correspondence will be only through this registered email I.D.
* After successful registration, candidates will be mailed a one-time password valid for 48 hours. Candidates should remember to change the password within 48 hours. If candidates face any error while logging into the application portal, they may send an email to " jnte@tatatrusts.org" with a screen shot of the error page along with the details of the registration like registered email I.D. and applicant's name.
* The application process is completely online. Candidates may complete the application form in one or more visits but must remember to save the draft before exiting each time. There is a preview option before final submission after which candidates will not be able to make any changes.
* Candidates are advised not to leave any field blank: they may write "Not applicable" wherever necessary.
Statement of Purpose
The most important point to note is that the Statement of Purpose is NOT a Personal Statement, which means that candidates must not make too many biographical references. The SoP, specifically addressed to the "Trustees of the J N Tata Endowment", is an academic document and should ideally address the following questions, while written in candidates' own words, between 500 and 800. What has to come through clearly is why you have made a certain academic choice.
* What is your course and why you have chosen it?
* Are you continuing your undergraduate stream or moving to a new stream? If new, what explains the change?
* What are your expectations from the postgraduate programme?
* Do you have any experience in the chosen field? How?
* If you already have the experience, what additional skills do you hope to gain?
* How does your programme fulfil your needs and interests?
* What are your career plans?
We have also provided some guidance on our website on how you can construct a good statement of purpose.
Candidates guilty of plagiarism will be found out and summarily disqualified.
Letter of Recommendation
Candidates have to arrange only one LoR, specifically addressed to "The Trustees of the J. N. Tata Endowment"from:-
1. a Professor of the College or University OR
2. the Employer, in case the applicant is / was working.
Instructions for candidates:-
1. Candidates must mention the Recommender's name, designation and department, name of the college/university/organisation, city, contact numbers and their official email ID.
2. Once the application is validated/submitted, your recommender will receive an email with information on how he or she can access the link to submit a recommendation on your behalf. As soon as they submit the letter, it will become a part of your application form.
3. In case your recommender does not receive an email for requesting the LoR because the notification email is blocked by a "spam" filter as part of their email software, please ask your recommender to double-check their email messages and their spam folder, looking for a message from "jnte@tatatrusts.org" with a subject line that says, "Letter of recommendation – J N Tata Endowment loan scholarship 2022-2023".
4. The LoR will be accepted up to one week's time period from the date of submission of the application form. Please note that the last date for submission is Monday, 28th March , 2022.
5. Please be aware that when you submit your online application, we will consider it as complete only when we receive your LoR from your recommender.
6. Do not wait till the last date for submission. If your application is complete before the deadline, please submit it.
Instructions for Recommender:-
After the applicant submits the application form with the Endowment mentioning you as a Recommender, you will receive an automated email with the applicant's details and a link to the online recommendation letter.
Submitting a recommendation letter will involve the following steps:
1. accessing the recommendation system using the link supplied,
2. once the link is opened, the recommender will see candidate's information like, name, their chosen course of studies and a space for the recommendation content.
3. Recommenders are requested to write/paste the LoR in the space provided, not exceeding 7000 characters . There is no facility to upload a document.
4. Recommenders may mention the candidate's academic achievements and potential, projects if any undertaken under their supervision or otherwise, any research paper co-authored with the candidate, personality and motivation, professional achievements (for experienced candidates), contribution to community, their suitability for the loan scholarship they are applying to, and any other information you consider relevant.
5. Once recommender has submitted the recommendation, a confirmation will appear on screen about the successful submission.
6. Recommender will not receive a confirmation email, and that he/she will not be able to alter/access the recommendation letter once submitted.
The last date receiving the recommendation letter is Monday, 28th March, 2022.
Candidates can see the status of the submission of their application form and the LoR, after logging into their account.
If these instructions are not followed and information given by candidates on the application form is incomplete or incorrect, the application is liable to be rejected. Registration for the application form will be open between Tuesday, 21st December, 2021 and Monday, 21st March, 2022 till 12.00 p.m. (noon). The last date for submission of completed application form is Monday, 28th March , 2022 till 12.00 p.m. (noon).
For more details refer the Official Website
Disclaimer : We try to ensure that the information we post on Noticedash.com is accurate. However, despite our best efforts, some of the content may contain errors. You can trust us, but please conduct your own checks too.