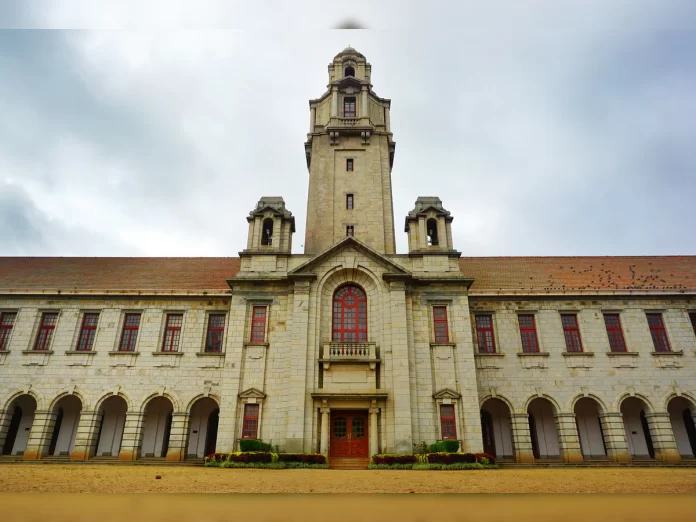 Indian Institute of Science (IISc) Bangalore, India's top ranked Research University. IISc Bangalore admits students to Ph. D., Integrated Ph. D., M. Sc., M. Tech., M. Tech. (Research), M. Tech. (online), M. Des., M. Mgt. and the four-year undergraduate degree programs. The areas of interdisciplinary research include mathematical and computational sciences, quantum technologies, energy, bioengineering, brain and artificial intelligence, water and climate change
Thank you for reading this post, don't forget to subscribe!
IISc has announced admission for 2022-23 for UG, PG and Research Degree programmes.
A new BTech in Mathematics and Computing has been started with selection based on JEE (Advanced) Exam. An M.Sc. coursework-based programme is being offered in Life Sciences and in Chemical Sciences.
Lastly, the MTech. course programme is also being offered in the Bioengineering discipline.
Key Dates:
Online Admissions Portal to accept PG application is expected to open by Feb 15, 2022.
Admissions website for August 2022 admissions is available. (Feb 5, 2022)
Last date for online submission of applications for Post-Graduate (PG) programmes (website closes at 23:59 hours) – 22 March 2022
Last date for receipt of printed version of Sponsored/ERP applications to Post-graduate programme (upto 17:30 hours) – 29 March 2022
Scholarships: Students are awarded scholarships/fellowships from the date of joining the Institute. The value of the scholarship/fellowship per month for students enrolled in different programmes of the Institute is as given below.
Programmes Scholarship/Fellowship
Ph.D. JRF – Rs. 31000/ SRF – Rs. 35000
Bachelor of Science (Research) Rs. 5000
M.Tech. (Research) Rs. 12400
M.Tech./M.Des. Rs. 12400
Integrated Ph.D.              Rs. 16000/JRF – Rs. 31000/SRF – Rs. 35000
Research Areas for PhD/MTech (Research):
Ph D in Science Faculty: Astronomy & Astrophysics, Biochemistry, Ecological Sciences, High Energy Physics, Inorganic & Physical Chemistry, Materials Research, Mathematics, Microbiology & Cell Biology, Molecular Biophysics, Molecular Reproduction, Development & Genetics, Neurosciences, Organic Chemistry, Physics, and Solid State & Structural Chemistry.
M Tech (Research) and Ph D in Engineering Faculty: Aerospace Engineering, Atmospheric & Oceanic Sciences, Chemical Engineering, Civil Engineering, Computer Science & Automation, Earth Sciences, Electrical Communication Engineering, Electrical Engineering, Electronic Systems Engineering, Instrumentation and Applied Physics, Management Studies (Ph D only), Materials Engineering, Mechanical Engineering, Nano Science and Engineering (Ph D only), Product Design & Manufacturing, Sustainable Technologies, and Computational & Data Sciences.
PhD in Interdisciplinary areas: BioSystems Science and Engineering (offered by Centre for Biosystems Science and Engineering), Energy (offered by Interdisciplinary Centre for Energy Research), Mathematical Sciences (offered by IISc Mathematics Initiative), Nanoscience and Engineering (offered by the Centre for Nano Science and Engineering), Water Research (offered by Interdisciplinary Centre for Water Research), Cyber Physical Systems (offered by Robert Bosch Centre for Physical Systems), Climate Change (offered by Divecha Centre for Climate Change), Brain and Artificial Intelligence (offered by Brain, Computation, and Data Science group).
Selection procedure for PhD: Selection procedure: Candidates are shortlisted for an online interview based on their performance in the National Entrance Test and/or the qualifying degree as detailed in the above table. The selection is based on the performance in the interview (in some of the departments, an aptitude test/preliminary interview will precede the interview/Final Interview).
For exact eligibility criteria, how to apply and other details, candidates should refer the official website IISc Bangalore.
The official website: www.iisc.ac.in/admissions
Disclaimer : We try to ensure that the information we post on Noticedash.com is accurate. However, despite our best efforts, some of the content may contain errors. You can trust us, but please conduct your own checks too.